It is the year of our lord, 1447. I am a frenchman as was my father, though as a boy I was raised in my mother's England. My father, you see, was one of those who went to England with Princess Catherine of France. He was wounded in the battle at Agincourt, but still he was skilled in the use of arms, and as a squire whose knight and lands had been lost at Agincourt, the Queen's good will was all the treasure in the world. He met my mother in King Henry's court. I was born on Saint Crispin's day, and so was I named.
I was raised at my mother's estates, causing no end of trouble; I was a wild lad and fiercely proud of my French heritage. Soon I was sent to my uncle Charles near the Ardenne forest in France. He immediately shipped me off to the monastery where I learned to write, to paint manuscripts, and to read Latin and Greek at the hands of kind but very disciplined monks.
It happened to chance that my skill with a brush had developed to the point where I was tasked to assist in the painting of angels on a breviary page, when I chanced to see a lovely Lady who had been given lodging for the night while traveling through. Normally they are cloistered well, these travelers, and especially young women, but I was fortunate enough to replace the elderly Brother who was normally tasked with bringing their meals. Seeing her that evening changed my world forever.
She was the angel that I would paint in the breviary, and every time I had occasion to paint a woman's form it would be her likeness that would appear from the subtle strokes of the brush. Her name was Iseult, from the town of Soleil, and I begged the heavens to see her again someday.
Upon finishing my tutoring at the monastery, I returned to my uncle's estate where I resumed my training in the arts of war. My beloved France was still battling the English on our soil, and I would join the fighting as soon as I was able. My uncle provided me with horse and harness, and off I went to join King Charles in the invasion into Guyenne in 1442. There I learned enough about battle to last two lifetimes.
The fortunes of war were enough for me to provide a humble estate for my wife and two children, Gloriana and Gareth, for my prayers have been answered, and Iseult is my wife.
My device is sable, a seme' of swords argent, a lion dormant azure on a fess argent.
My badge is sable, a seme' of swords argent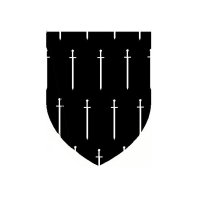 My mottoe is "Bien qu'un lion dans le domaine, un agneau 'a leur tour vous le trouve."
("Although a lion in the field, a lamb in turn thou shalt him find.")
~Eleanor Brickdale Fortescue
I currently reside in the Shire of Arenal, in the Kingdom of Meridies.