Greetings!
Welcome, my Lords and Ladies!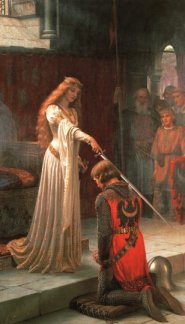 This page is dedicated to my beautiful Lady, Iseult the Fair, and our two children, Gloriana and Gareth. It is also dedicated to the ideals of Chivalry, Courtesy, Honour and Love in all aspects of life.

Allow me to introduce myself! I am Crispin d'Ardenne, 15th century frenchman, and also I am Charles, 20th century american.
When I am not flying helicopters (TH-57 what I fly now, SH-60B what I flew in the fleet) I am usually preparing for the next Medieval event, which consists of armor upkeep or repairing rattan weapons or sewing or leatherworking or calligraphy, etc., as anyone in the Society for Creative Anachronism (SCA) knows intimately. I am fortunate to belong to a tournament group called the Companions of the Silver Swan, and we have held several challenge tournaments and an Arthurian quest to date.

Follow some of my links and see what fabulous things I have encountered in these current middle ages!


Thanks for stopping by, more to follow very soon!

I remain,

Crispin d'Ardenne, Squire to Sir Ian Ben Dubh, apprentice to Baron Iefan Colledig, currently residing in the Kingdom of Meridies in the Shire of Arenal

mka Charles Quintas
---
This website experience has been enhanced by the incredible talent and generous support of


In other words, these folks have been nice enough to give me permission to use the wonderful art, backgrounds, and music you are experiencing. They retain all copyrights. Some of the graphics I did myself, and some is freeware. If you would like to use something, email me!


There have been
travelers here since 6 August, 1998