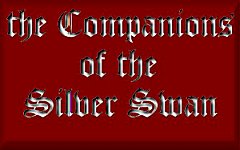 Our third venture combined an Arthurian knightly quest and a tournament. As for the quest, it was based upon the story of Sir Gareth, or "Beaumains" from Le Morte d'Artur.


The tourney was held shortly after the quest at Winter Art/Sci in Trimaris on 9 January, 1999.

The tourney invitation read as follows:


The Three Queens of Avalon have come forward and are seeking champions during Arthur's absence. The three queens will be selected by lottery from the ladies' gallery. They will take their seats along with any other Royals present, and the tourney will then begin with a procession of the tenants: the Companions of the Silver Swan and the Black Knight will present their ladies to the assembled royalty. Then the venants. The Herald King of Arms will read the Charter of the company during the induction of new members of the Swan and call all combatants to look to their honor.
The tourney will be conducted in 3 rounds:
Round 1: The Mysteries of the Grail:
The Venants shall challenge the Tenants, one at a time to single combat, a plaisance to odd numbered counted blows, until they are defeated. If they remain victorious, they may challenge the Black Knight.
Round 2: The Cave of the Heart:
The ladies' gallery shall ask each of the combatants to step forward and complete a task or answer a question. Any combat will be at the discretion of the ladies.
Round 3: the Fellowship of the Round Table:
The ladies' gallery shall pair up a venant and tenant to make teams of two. The teams will be tied together and shall take the field for a melee.
At the completion of Round 3, the Royalty assembled will select a champion.
---
---
First, read about the Quest
Then read about the Tournament
---
---
---
This website experience has been enhanced by the incredible talent and generous support of


In other words, these folks have been nice enough to give me permission to use the wonderful art, backgrounds, and music you are experiencing. They retain all copyrights. Some of the graphics I did myself, and some is freeware. If you would like to use something, email me!
---

There have been
travelers here since 11 October, 1998

---